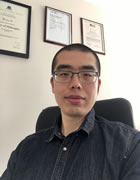 Canberra Tutor in Maths, Physics, Chemistry, UMAT, GAMSAT, Engineering, Statistics, Computing, Industrial Technology, Economics, Accounting,...
(see below for full list of subjects and levels)
(28 student reviews)
(28 reviews)
<b>Former ANU lecture and tutor. Now focusing on private tutoring. Permission of working with children and vulnerable people. Especially good at bringing students' interest into the subject. Running own business WHY Tutoring with tutors specialized in multiple areas</b>
-Professionally trained in education area with sound knowledge in multiple subjects including <b>Math</b> (Year 7-Tertiary, IB test), <b>Physics</b> (Year 7- Tertiary IB test), <b>Chemistry</b> (Year 11-12, IB test), <b>UMAT/GAMSAT/Aptitude Test Prep</b>, <b>Engineering related subjects</b> (such as mechanical design and engineering materials), <b>Programming and Computer Science related subjects</b>, <b>Mandarin and Korean</b>, <b>Chinese Martial Art, Calligraphy and Tea Culture</b>,
-Offering home-visit, school-visit and extra phone/online help.
-Self-designed lessons/homework delivery available
-Available during the day, after hours, evenings and weekends.
You can find more about me from whY Tutoring Homepage: <b><u>http://www.why-tutoring.com</u></b>
Feel free to contact me by emailing to <b>info@why-tutoring.com</b> or call me at <b>0432381364</b> or <b>0421634367</b>.
Subjects
Maths -

Primary, Secondary, Tertiary

Physics -

Secondary, Tertiary

Chemistry -

Secondary, Tertiary

UMAT -

Tertiary

GAMSAT -

Tertiary

Engineering -

Secondary, Tertiary

Statistics -

Secondary, Tertiary

Computing -

Secondary

Industrial Technology -

Secondary, Tertiary

Economics -

Secondary, Tertiary

Accounting -

Secondary, Tertiary

Essay Writing -

Secondary, Tertiary

Business Studies -

Secondary, Tertiary

Mandarin -

Introduction, Intermediate, Advanced

Special Needs -

Primary, Secondary



Chinese Martial Arts (Chen-style Tai Chi, Bagua, Xingyi Boxing, Staff, Nunchakus), Chinese Calligraphy, Chinese Tea Culture
Experience
I started lecturing and tutoring at ANU since 2008. I established my own tutoring
business in 2009 and I have been focusing on providing private tutoring to those who
are either in seek of catching up the average or willing to be outstanding.
Currently I am tutoring more than 40 students from primary school, high school,
tertiary level, and working professionals. With more than 9 years tutoring experience
in Canberra, I have developed my own networking with schools, families and local
tutoring agencies.
Tutoring is my dream career. I am passionate, patient and reliable and all of these
guarantee the quality of my tutoring as well as my enthusiasm in it. I am and will
keep on tutoring and helping students with my knowledge, honesty, reliability and
sincerity. Especially, I am good at inspiring students' interest in the subject with vivid
pictures/videos in tutoring, such as flashes, slide shows, and practical experiments.
My students speak highly of my sessions and their parents would always recommend
me to their friends and colleagues.
Qualifications
Qualifications:
--Distinguished Certificate of Graduate Teaching Program of ANU.
--Permission of Working with Vulnerable People.
Degrees:
--Master of Philosophy in Engineering (by research) of Australian National University
(ANU).
--Bachelor's Degree of Engineering of Beijing University of Aeronautics and
Astronautics(BUAA).
--Second Bachelor's Degree of International Business of Beijing University of
Aeronautics and Astronautics(BUAA).
Services
Private Tuition
Group Tuition
Teaching Tuition
Home Visits
Phone Help
Online Help
Rates
from $60/hour
Student Discount
Special Offer - Group tutoring (two students or more) discount available. .
Updated
Profile last updated on 13-Jan-2017
(registered 21-Nov-2013)
Contact