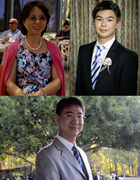 Brisbane Tutor in Mandarin,
English
, Piano, Creative Writing, ESL, Essay Writing, Maths, Reading
(12 student reviews)
(12 reviews)
At Eversuccess Tuition, we believe that it is extremely important for students to not only gain a deeper understanding in the subjects they are being tutored in, but also become more and more confident through the tutoring process.
Our Mandarin teachers are Kitty and Edward who have more than 16 years of combined teaching experience. Kitty is the founder of a language school (English and Mandarin) with more than 500 students, where she was also principal and teacher.
Edward is currently a Law student at the University of Queensland, and achieved an OP 1 equivalent. He has been awarded an Advanced Certificate in Piano with Distinction from Trinity College London, and has won a number of first and second prizes in piano Eisteddfods. He also received a full scholarship from Citipointe Christian College where he was awarded Dux of Year 9.
Eversuccess Tuition offers tutoring in the following subjects:
Mandarin Mathematics English Piano ($50/hour)
Tuition fees: $30 - 50 (varying by subject) per hour, One on One at our studio in Robertson. Please inquire more about group sessions (great discounts!)
At Eversuccess Tuition, we also have a professional counsellor, who is bilingual in English and Mandarin, specializing in helping students, couples or families who are stressed or face difficult situations in:
Relationships, Parenting, Adolescence, Self-Esteem/Confidence, Depression, Children's Behaviours, as well as Cross-Cultural issues.
Please visit the website of the Counsellor for more info: www.successcounselling.org Counselling fees: $40 - $60 per hour session. Please contact us for a quote or booking.
Please call 0452 488 168 or 0431 202 518 to book a lesson today! Website: http://www.eversuccess.com.au/
Subjects
Mandarin -

Introduction, Intermediate, Advanced

English -

Primary, Secondary

Piano -

Introduction, Intermediate

Creative Writing -

Primary, Secondary

ESL -

Primary, Secondary

Essay Writing -

Primary, Secondary

Maths -

Primary, Secondary

Reading -

Primary, Secondary
Experience
Eversuccess tutors have many years of tutoring experience, and
our Senior Tutors have had at least 16 years of tutoring experience. Eversuccess Tuition
also provides all tutors with first-rate training prior to the commencement of their
tutoring.
Qualifications
Eversuccess tutors are all high achievers in the subjects that they tutor in,
receiving at least a VHA4 in the QCAA or a 7 in the IB. Tutors at Eversuccess Tuition
study at either the University of Queensland or the Queensland University of
Technology.
With the knowledge and passion to instil students with confidence and success, our
tutors
are certainly the most affordable premium tutors in Brisbane!
Services
Private Tuition
Group Tuition
Teaching Tuition
Home Visits
Phone Help
Online Help
Rates
$30-50/hr per person (great discounts for group bookings!)
Updated
Profile last updated on 27-Feb-2017
(registered 26-Jul-2014)
Contact