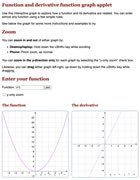 Sydney Tutor in Calculus, Maths, Statistics
I am Dan Chicos and offer quality high school Maths tuition. My teaching is supported by interactive software, online homework and video lessons. I always try to teach the Maths syllabus in a meaningful way. Interesting and innovative lessons will allow my students to easily and quickly improve their understanding of Mathematics and assessment results. My students will enjoy genuine attention and I will respond to all their demands as soon as possible.
My website is designed to support students learning needs. It is said that given great tools, people can achieve great results.
I can be contacted at 0435 856 908, via my website (contact form) or direct email to ourmathstutor@gmail.com.
Subjects
Calculus -

Secondary

Maths -

Secondary

Statistics -

Secondary
Experience
I am a high school Maths teacher and worked as a classroom teacher in the NSW public system from 2004 until 2010. In October 2010 I left my profession, but I have never given up to my passion, Mathematics. Now I am ready to teach high school Maths students again, but this time privately, since even I left my teaching career 7 years ago, I kept in touch with the Curriculum changes and innovative teaching methods.
Qualifications
I am a qualified secondary Maths teacher (Grad. Dip. Ed. from University of Western
Sydney, 2003) and studied 1 year Mathematics at Macquarie University in 2002. I have
also a bachelor degree in mechanical engineering (Thermodynamics and heat engines)
from Polytechnics Institute of Bucharest, Romania.
Services
Private Tuition
Group Tuition
Teaching Tuition
Home Visits
Phone Help
Online Help
Rates
I charge the following hourly rates:
- Junior high school Yr 7-10: $50 for one-to-one tuition.
- Senior high school Yr 11-12 (General Mathematics): $60 for one-to-one tuition.
- Senior high school Yr 11-12 (Mathematics 2U): $70 for one-to-one tuition.
- Senior high school Yr 11-12 (Mathematics Extension 1): $70 for one-to-one tuition.
For group tuition (2 or 3 students) there is a discount of $10 or $15 per student.
Student Discount
Special Offer - First lesson is FREE.
Gender
Male
Updated
Profile last updated on 13-Oct-2017
(registered 01-Oct-2015)
Contact