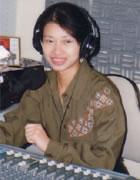 Sydney Tutor in Cantonese, Japanese, Mandarin
(4 student reviews)
(4 reviews)
Hello,
I'm Anne currently as commentator I'm able to teach Japanese and Chinese at any level for any age group. I was chosen to be the Japanese trainer and Interpreter for the Asian Games 1994 in Hiroshima - Japan. From 1997 I've taught Japanese for HSC students in Sydney, and not only just for the sake of HSC but also for future uses. Most HSC students I've taught achieved HSC 90 and above ( given they don't start tutoring 2 3 months before the exam).
Before I came to Australia I've stayed in Japan (Hiroshima) for 5 years. I taught Chinese at the Japanese Foundation YMCA for 2 years Mandarinn & Cantonese). I not only teach the students but would also help them by correcting homework and teaching them how to complete assessment tasks from school. I will also teach them about various skills they need to know for exam purposes. Pronunciation in communicative language learning is most importantly, I will focus heavily on getting pronunciations 100% correct.
I will be teaching all areas, following with Listening, Reading, Speaking and Writing.
During the 1994 Asian Games in Hiroshima Japan I Providing translation service to the athletes coming from China and Taiwan. Also in Japan I've trained many people conversational Chinese, culture and customs. people including executives from NKK (NihonKouKan) to prepare them for new assignments in China.
I also offer teaching anyone who is wanting to participate in the " Japanese-
Language Proficiency Test". which has 5 levels of difficulty. This certificate is a record of anyone¡¯s Japanese level. Which is a must for working for Japanese company or going to University in Japan.
NOTICE:
* Due to my work my phone is often switched off, Please contact by "EMAIL"
Time available: weekends / Monday-Friday after 11:30am
Class LOCATION: Sussex Street. Sydney 2000 (Near TOWN HALL)
Subjects
Cantonese -

Introduction, Intermediate, Advanced

Japanese -

Introduction, Intermediate, Advanced

Mandarin -

Introduction, Intermediate, Advanced
Experience
20 Years Teaching Japanese and Chinese in Australia/ NSW.
2 Years Teaching Japanese and Chinese in Japan/ Hiroshima
Interpreter/translator
Qualifications
University of New South Wales
(Certificate in Communicative Language Teaching)
Japanese- Language Proficiency Test.
(Passed Lvl 1 Highest level for this exam) by the Association of
International Education,
Japan and the Japan Foundation.
South China Teaching University
(Degree in Japanese - Teaching.)
Services
Private Tuition
Group Tuition
Teaching Tuition
Rates
Tuition Term Fee (10 lessons):
* For Y7-10 (one to one): $35-per 1hr/ $50-per 1.5hr/ $60-per 2hr
* For 2-3 students: $30-per 1hr/ $45-per 1.5hour/ $55-per 2hr (
per person)
* For Y11-Y12, university and Adults student (one to one): $40-per
1hr/ $60per 1.5hr/ $70per
2hr
* For 2-3 students: $35-per 1hr/ $50-per 1.5hour/ $60-per 2hr (per
person)
Gender
Female
Updated
Profile last updated on 04-Oct-2016
(registered 31-Mar-2007)
Contact