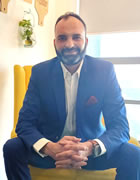 Melbourne Tutor in Accounting, Finance, Management, Business Studies
Thanks for visiting my profile.
Who am I? Qualified Chartered Accountant (IND), an MBA in Accounting & Finance (AUS), Certified Life Coach (AUS), Certified Trainer and Assessor (AUS) and a Certified Brain Mapping Practitioner (UK). I have trained/coached/taught over thousands of student over the past 11 years. Teaching is my passion and helping people achieve their academic or personal goals brings me immense JOY.
As a Founder of Concepts Coach® my area of expertise lies specifically in simplifying learning and providing easy to follow concepts, which provides my clients with clarity and confidence.
Whom do I teach?
Clients come from all walks of life: from university students to working professionals, from small business owners to managing directors of multi-billion dollar companies. I take pride in my ability to connect with any age group and any nationality.
When do I teach? 7 days a week including public holidays. I can organize a time/day which is convenient for YOU, ensuring that your learning needs are always answered promptly.
Where do I teach?
Simply click and join to save time, travel and money. All sessions are conducted by me on a live interactive platform. Above all considering your busy lifestyle you get the flexibility to learn from the comfort of your own home or office.
How do I teach?
The whole idea would be to stick to the outline of your course material, but give you access to my quality notes to provide a logical explanation. For assignment or case study help session will be more structured around your assignment request. Please note I don't write essays or an assignment on your behalf.
How much do I charge?
Charges for LIVE online interactive one on one sessions at a flat rate of $45 per hour. No hidden costs whatsoever.
Services offered:
Learn at your own natural pace (E-Coach)
Break down difficult topics into easy to overcome hurdle (Concept Library)
(Assignment help) focused on building your D.I.Y. skills
Get step by step suggestions/pointers to your (unique question)
(Brain Mapping) as a self awareness tool and to know your behavior preference
(Small Business Owners Coach) building Accounting & Finance skills
Look forward to meeting you in 2017!
Anish Baheti
Concepts Coach® Founder
Coach | Speaker | Consultant |
Still have a question? Email: help@conceptscoach.com.au | Website: www.conceptscoach.com.au
Subjects
Accounting -

Tertiary

Finance -

Tertiary

Management -

Tertiary

Business Studies -

Tertiary



Management Accounting, Company Reporting, Financial Accounting, Cost Management, Corporate Finance, Investments, Business Finance, International Finance, Financial Management and Management case studies. CA, CFA and CPA students are most welcome
Experience
Most recent testimonials:-
"Anish was a fantastic tutor. He personalized each session to accommodate my learning needs. I would have not got through my finance subject without him and I thoroughly recommend him to anyone requiring assistance in the finance area. He is a very patient tutor and the online sessions were very effective. Thanks Anish for everything" Amanda - Working professional (Online sessions)
"Anish is a great coach. He's able to quick understand your necessity and doubts. In addition, he's pretty flexible, easy to work with, in special under a tight deadline. Anish clarified and guided me through my assignment just a few days before the due date. He has a great knowledge and an easy and confident approach. No doubt that I highly recommend Anish" Paula - Professional from New Zealand
"Very helpful as he paid complete attention to my learning needs. He uses variety of approach to make a student understand complex topics in a simple & easy to follow steps. Thank you Anish" Aaronna, Student (Online session)
"He is a very knowledgeable teacher. He can explain complicated topics easily, and has a genuine interest in bettering his students. I would recommend him to anyone looking for a tutor." Christian, Student (Online session)
"Anish is very professional in analysing a business. During our sessions, he contributed to many innovative ideas for writing my business report, which achieved very high GPA." Melissa, Professional (Online session)
"His broad understanding of accounting principles is complemented by his ability to convey concepts using a range of teaching methods. He provides exceptional service though contextualization of materials to ensure concepts can be taught in a
format that is relevant to you. I highly recommend Anish to anyone looking to improve their understanding of the core concepts of accounting." Tom - Working Professional (Online session)
"Anish I got my results today and just wanted to thank you for all your assistance. For a subject which I thought I would fail with your help managed to not only pass but achieve a credit. I feel if it had not been for your online tuition and assistance in helping me understand Corporate Finance, I would have to repeat this unit." Karen - Professional (Online sessions)
"Anish is a first class corporate accounting coach. He has a great ability to simplify complex problems and make many formulas appear straightforward. I highly recommend Anish to all post graduate students." - Duncan - Professional
"Anish is probably the BEST educational coach I've had yet! I was really struggling with understanding the content of my course and my grades were slipping. Thanks to Anish I finished the semester not only with a full comprehension of my accounting subject but with an HD. He breaks down complex concepts to bite sizes making it very easy to learn. I will absolutely recommend him time and time again. Great support and couldn't have done it without him. Thanks Anish!!" - Blaz- Accounting
"Anish has helped me with Company Reporting and Financial Management this year, spanning over two semesters. He has been fantastic in his ability to explain topics in a way that was very easy to understand for me. His use of visual and diagrams has been my savior in Accounting! He has a great personality that's easy to work with, and highly patient, especially with a slow learning student as myself. Thank you for all your help." - Andreea - Accounting & Finance
"Thank you for your session on the key financial reports. As there was no cost involved, I was a little unsure as to what information I'd receive. The fact that it was a webinar gave me the impetus to join in. The session was clear and concise and spelled out the elements in the financial statements in an easy to comprehend way. I'll be looking forward to further webinars. Congratulations on a well delivered and information packed session." - Carole on FREE webinar on 4 Key Financial Statement
"I contacted Anish in regards to an assignment I was doing for a subject called Techniques in Financial Analysis where I was in a state of panic and it was due in 7 days. After I sent him the information on very short notice, he helped me through the technical analysis of a company's Annual Report. Being in Sydney and he in Melbourne was no problem as he changed his day to help me meet my deadlines.
THanks again!" - Thomas - Investment Manager (Online sessions)
"Anish is an excellent Coach. His flexibility via the online sessions and his ability to make himself available at difficult times are well suited to busy professionals taking further education. His broad knowledge and ability to identify the crucial principles in the material being studied made my job (almost) easy!" - Alex - Financial Modelling (Online sessions)
"I am in the process of completing my CA studies and with almost no face to face assistance provided, it was very comforting to know, that if I struggled with any concepts, I would be able to have a clear explanation from Anish. I went into the exam feeling a lot more confident. A small price to pay for education." Rachel - Management Accounting, CA program
"Anish was excellent, gave me the right advice every time. He was also 100% committed to ensuring I had all the support I needed, he even tutored me over Skype during his holiday overseas as my final exam was during that period." Matthew - Corporate Finance
and many many more.....
Log on to the website link listed below and watch a 2 min introductory video to learn about all the help that is available to you.
Contact details:
Anish Baheti
help@conceptscoach.com.au
www.conceptscoach.com.au
Skype: concepts.coach
Qualifications
MBA - Accounting & Finance - University of Technology, Sydney (AUS)
Chartered Accountant - (IND)
Certificate in Life Coaching - (AUS)
Certificate in TESOL & Business English - (USA)
Certificate IV in Training & Assessment (TAE40110) (AUS)
Certified Practitioner Brain Mapping - (UK)
Published Work:
Upcoming Author of a book to be published in 2016, focused on making the
complicated
Accounting, simple for Business Owners
"Key Concepts in Financial Management for aspiring CA students"
Subjects taught:
Management Accounting
Company Accounting
Financial Accounting
Accounting For Decision Making
Corporate Accounting
Cost Management
Corporate Finance
Business Finance
International Finance
Financial Statement Analysis
Financial Management
Financial Maths
Financial Reporting
Managerial Finance
Company Law
International Finance
Accounting and Finance for Small Business Owners
Case studies and assignment help
CA CFA and CPA course material
Services
Private Tuition
Group Tuition
Phone Help
Online Help
Rates
Please note charges are for interactive online one on one sessions. Group online session
also available. Charges for CA or CPA courses would be higher.
Gender
Male
Updated
Profile last updated on 23-Jun-2017
(registered 24-Jul-2011)
Contact
Email: help@conceptscoach.com.au